In poultry barn efficiency, the smallest everyday thing can have a big impact. Getting more from your equipment doesn't always mean starting from scratch - it's giving your system the regular checks for efficiency and deciding to repair, replace or upgrade poultry equipment that can save you on time, labor and energy.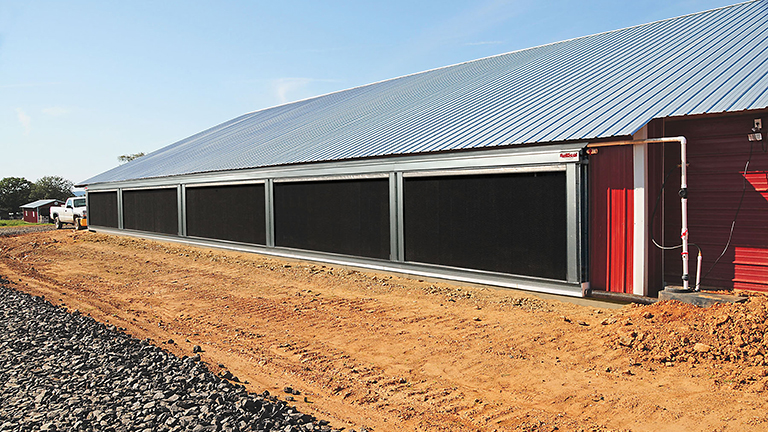 Here are some poultry barn components to watch for efficiency upgrades.
Your Cool Cell
Your cool cell probably needs a proper check. A clean cool cell pad is an efficient pad. Over time, cool cell pads can develop calcium and other build-ups that can reduce their effectiveness. There are products available on the market that can help you clean your cool cells pads, but a good cleaning can make a significant difference.
PRO TIP: Make sure you're only using manufacturer-approved products and methods to clean your cool cell components.
While you're cleaning your cool cell pads, take a moment to clean out the filters on your pumps as well. Clogged cool cell filters have reduced water flow, decreasing their ability to reduce the temperature in the chicken houses.
How can you know if your cool cell needs an upgrade? There's a quick visual test. If your cool cell is flat and straight, it's in good working condition. HOWEVER, if your cool cell looks like it's being pulled into the house, it needs to be replaced. This happens because the bottom is becoming soft and beginning to deteriorate. Your system also needs to be replaced if you can no longer remove the build-up. There's not a set number of years it will or won't be efficient - it's the condition that the system is in that determines its lifespan.
Fans, Belts and Pulleys
A fan that's damaged or rusting through can't do its best work. A great way to test this is by checking your windspeed to ensure it's up to your integrator's specs. If your fans aren't meeting those recommendations it may be time to replace your fan and/ or add additional fans to your system.
Belts and pulleys are part of your fan systems, but their small size makes them easy to overlook. A worn belt reduces the amount of friction between the belt and the pulley, meaning more slippage and a less efficient fan. Also, make sure pulleys are in good working condition and greased. A stuck pulley cannot do its job well.
PRO TIP: A pulley and belt are made to fit each other - if a belt is sunk into the pulley, it is worn out.
Shutters and Sidewalls
Shutters and sidewalls work with your fans to keep poultry barns at the ideal temperature. Dirty shutters are efficiency robbers and should be kept clean and in optimum condition. It doesn't take much for the components of a poultry barn to get dirty, so consider cleaning your shutters between flocks. If they can't come clean, or appear damaged, it may be time for a replacement.
If you're using tunnel ventilation, check and ensure that sidewalls are tightly sealed and closed, as any cracks in the system can let hot air in. Cracks in your sidewall can cause unwanted increases in air temperature throughout the house. If you're noticing this issue, it may be time to replace your sidewall vents.
Controller
Having the right controller on your barns can make a big difference in keeping your systems running at the top of their game. A smart barn controller, such as the EDGE 2 controller puts control in the palm of your hand, allowing you to monitor and adjust your systems at the click of a button.
By taking advantage of the various sensors an EDGE 2 system connects to, you can monitor humidity, wind speed, ammonia levels, amp usage by fans and other components. These components make keeping your barn efficient a quick and easy task.
CUMBERLAND EDGE CONTROLLER SAVES POULTRY PRODUCERS MONEY, REDUCES WEAR AND TEAR
Cumberland has the expertise and equipment you need
Cumberland has the proven and dependable solutions you need for your birds, your barns and your operation to reach their full potential. Want to know more? Contact your local Cumberland dealer.